Blue Scaled Quail & Eggs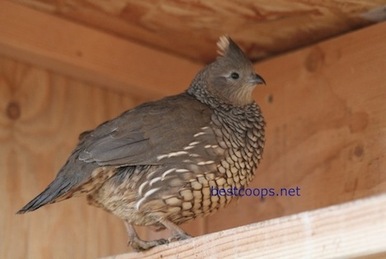 Blue Scale Quail live in brushland and woodland from central Mexico up to the southern US. They eat all kinds of seeds, berries, and occasionally insects. Scaled Quail grow to be 10 to 12 inches long. A male will weigh about 180 g, and a female usually about 175g when they are full grown.

They have pale bluish-grey feathers, with marks in their feathers that look like scales. The scale-looking marks can be slate blue to bluish-grey and appear on their neck, back and belly. The Scaled Quail have a white-tipped crest. Males have plain brown chins, whereas females have faint brown pin stripes. Males also have larger heads. Blue Scale Quail are very nervous, timid, skittish but peaceful birds. When bothered, they tend to run, rather than trying to fly or hide. They will almost always run away when they are given feed and water.

---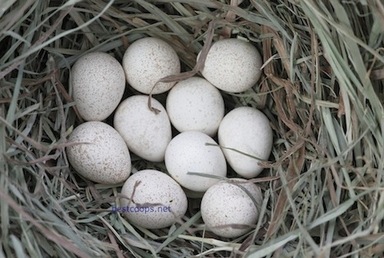 Scaled Quail build their nests on the ground hidden in dense plants. In the wild, the female will lay 13 to 14 eggs at a time. The eggs will weigh about 11g, and be about 1 1/4 inches long by 1 inch wide. The females are very prolific egg layers and can lay up to 50 to 60 eggs a year from May to September. The eggs can have light or dark brown spots on them.It takes about 23 days for an egg to hatch. Males will rarely help females look after eggs, though they will help defend them. In the wild insects are fed to the young for their first 3 to 4 weeks. In the wild anywhere from 50-70% of Scaled quail will die within their first year. Blue Scale Quail live in small flocks of about 15-25 birds, then form off into pairs to mate. Blue Scaled quail are a fun bird to rase!

---
| | |
| --- | --- |
| | We offer fertile Blue Scaled Quail Eggs for sale. Please choose the amount of eggs you would like to purchase below. We ship eggs to 48 states priority mail. We always include some extra eggs in case some break during shipping. There is a $15.00 shipping charge with purchase of eggs. Feel free to contact us with any questions. |
TEMPORARY NOT AVAILABLE FOR SALE

We always ship 20%-30% extra quail eggs for free with your order!
Example: If you purchase 50 quail eggs you will receive 10-15 eggs free in addition to your purchase.

Feel free to contact us if you have any questions.