Snowflake Bobwhite Quail & Eggs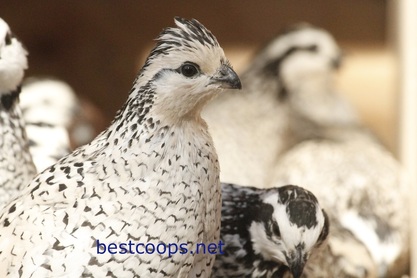 Snowflake Bobwhite quail is a small but plump bird that measures 8-11 inches in length and weighs around 6-7 ounces. Like most upland birds, the bobwhite contains a short but stout beak along with powerful feet and claws. These features adapt the quail for finding and eating the seeds and fruits, which make up a good portion of its diet. In male bobwhites, the throat is white and a white stripe extends from the bill over the eye to the base of the neck. The region below the eye stripe is colored black and expands under the throat to form a black collar. Female quail lack this black collar and their throats and eye stripes are buff, rather than white. The female Bobwhite quail lays small white eggs which take 21-23 days to hatch.

The first Bobwhite Quail of the Snowflake mutation was born in 2004. Snowflake Bobwhites are extremely rare and hard to find. Every year we offer a limited amount of fertile Snowflake Quail eggs for sale.
---
| | |
| --- | --- |
| We offer fertile Snowflake Quail Eggs for sale. Please choose the amount of eggs you would like to purchase below. We ship eggs to 48 states priority mail. We always include some extra eggs in case some break during shipping. There is a $15.00 shipping charge with purchase of eggs. Feel free to contact us with any questions. | |
TEMPORARY NOT AVAILABLE FOR SALE

We always ship 20%-30% extra quail eggs for free with your order!
Example: with purchase of 50 quail eggs you will receive 10-15 eggs free in addition to your purchase.

Feel free to contact us if you have any questions.